Better Arguments
Ambassador Program
Do you want to lead your community to engage more constructively across differences of opinion? Apply to our free Better Arguments Ambassador Program.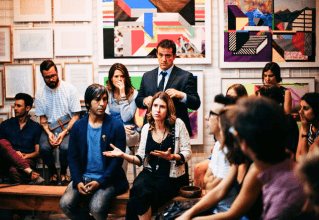 Program
The Better Arguments Project Ambassador Program is an immersive educational experience to train leaders in the Better Arguments Project's framework for constructive and empathetic disagreement. This is a perfect opportunity for leaders who wish to hone their skills with regard to engaging diverse audiences and stimulating dialogue for the common good. You will engage in peer-to-peer learning with a diverse cohort of Ambassadors, all of whom are taking this step to improve our civil discourse. This program will unfold through a series of nine modules, taking place virtually for two-hours each week. At the end of the experience, each Ambassador will be tasked with designing a project to bring Better Arguments concepts to their community. This program is completely free, and each participant will receive a stipend to assist with implementation costs. If this program sounds right for you, start by asking yourself: "Why does my community need a Better Argument?" Share your thoughts with us by applying to the Ambassador Program today.
Who Should Apply?
Be at least 18 years old.
Have a desire to engage with diverse viewpoints and bring the Better Arguments framework back to your community.
Be willing to uphold the 3 dimensions and 5 principles of a Better Argument throughout the program.
Understand and respect the time commitment. Participants must be willing to attend each weekly session.
*Applications will be reviewed based on many factors to create a diverse cohort of thoughtful leaders based on geographical location, political views, professional sector, and race and ethnicity to name a few examples*
Application is closed for 2021. Missed the deadline? Contact betterarguments@aspeninstitute.org for further information.
Modules
Orientation
12:00-2:00pm ET
The opening session will focus on exploring this first step of leadership, the examination of the story of self and those factors in your lives that drive your leadership.
What Better Arguments Does Your Community Need?
12:00-2:00pm ET
This session will be an opportunity for Ambassadors to start sharing about themselves, their communities, and their perspectives, ultimately building towards a discussion of what issue(s) they'd like to take on with their Better Argument.
What Does it Take to Show Up in a Better Argument?
12:00-2:00pm ET
After leaving this session, each Ambassador will know their individual strengths and areas of growth in engaging across differences and how to use them to their advantage.
Building Community Buy-In from Diverse Perspectives
12:00-2:00pm ET
This session will feature a panel of 2-3 experienced community organizers to share their story with the cohort of Ambassadors and engage in dialogue about the opportunities and challenges surrounding building community.
The Art of Conversation Design
12:00-2:00pm ET
This session will dive into the principles of design, and why they might be the most important set of leadership skills you haven't been taught (yet).
Facilitation Best Practices
12:00-2:00pm ET
This session will focus on critical building blocks for powerful facilitation and then move into skills needed to guide productive, thought-provoking, and inspirational meetings and gatherings that are aligned with the needs of multiple stakeholders.
How to Tell Your Story
12:00-2:00pm ET
This session will be a practical training to help Ambassadors improve their communication skills as well as the way they present themselves and their work to the world.
Better Arguments Workshop
12:00-2:00pm ET
This session will be an opportunity for each Ambassador to present the project they have been working on to solicit feedback from their peers.
Reflections & Next Steps
12:00-2:00pm ET
This final session of this program will be a capstone experience – an opportunity to create space for the participants to bring all aspects of their learning to a crescendo